Thursday, December 17, 2009
Aw, hell yeah!!!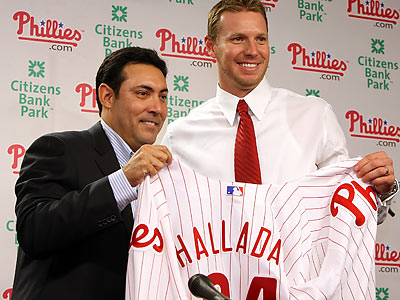 The Phillies just signed a guy who has been arguably the best starting pitcher in the AL for
the last eight years
. It's impossible not to smile when you think about that as a Phillies fan.
But do you want to know what I
really
like about
this deal
?
The fact that the Phillies (who for the first 30 years of my life were a team that always had a bullshit excuse to
not
upgrade their roster) had a guy like Cliff Lee at the top of their rotation and said "We can do better for longer."
That's what I love about this deal. That and the twinkle I see in Roy Halladay's eyes as he says things like this:
"This is where we wanted to be," Halladay said about his family.

...

"It was an easy decision for me," Halladay said. "Once the opportunity came up to be a part of this, I couldn't pass it up."
He's talking about the Phillies, people.
He's talking about playing in Philly during the Golden Age of Phillies baseball.
He could've gotten C.C. Sabathia money from a lot of other teams, but he came to Philly because he wants to win this year, next year and the year after with
this
team.
That's fucking awesome!!!
|